REGISTRATION INSTRUCTIONS BELOW: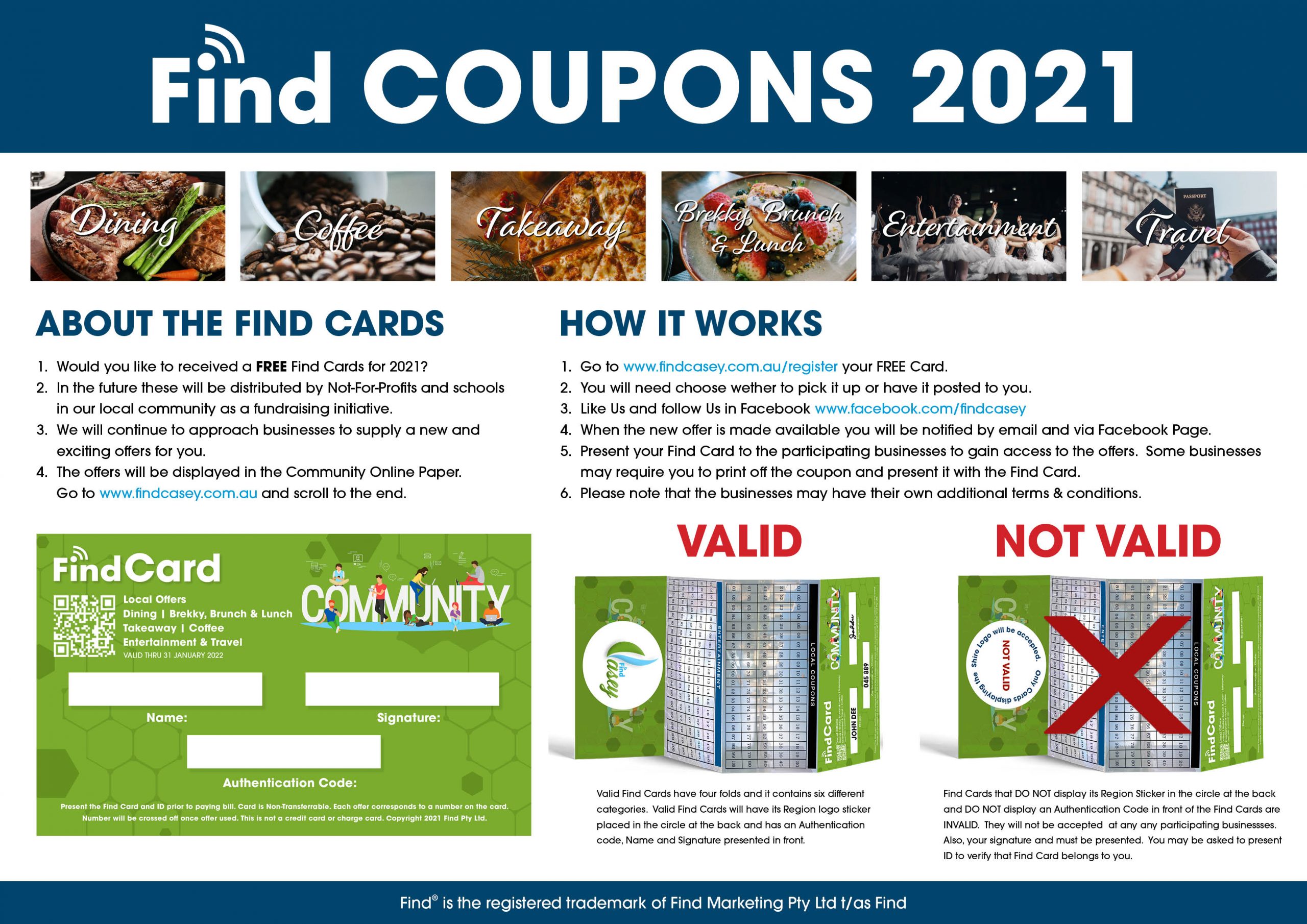 FIND CARDS ARE VALID TILL 31 JANUARY 2022.
We have tried to make it simpler for you to register your Find Card/s.  All you need to do is fill in your details below.  When we receive your information, it will be placed on our Mailchimp mail list.  This way you will receive up-to-date notifications related to Find Coupons.
We would also encourage you to go to https://www.facebook.com/findcaseyshire and Follow & Like our facebook page.  Doing the above will ensure you will receive notifications form us with regard to new offers.
NEW INITIATIVE
Please be mindful that this is a new Venture.  It will take time to sign up all the businesses in the local area.  We will continue to provide FREE Find Cards until we have enough participation from cafes, restaurants, takeway, entertainment and local businesses.
IT IS ABOUT FUNDRAISING
This is a fundraising initiative for local Not-For-Profits and similar organisations.  The aim in the future will be for you, the local community, to purchase a Find Card from your NFP that you are associated with so that they can raise necessary funds to keep operating.  For instance, in 2 years time it may cost you $30 to purchase a Find Card and have access to the Find Coupons.  Of the $30, $20 will go to the NFP.  This is still very cheap compared to $65 you might have been paying in the past for other E-books with coupons for which the NFP only received $18 per booklet sold.  Ours will cost less, provide more revenue to the local NFP, and help local businesses thrive.
Our aim is to have over $1000 worth of deals available to you each year.  We hope, when you are asked to pay $30, you will see this as far value and support this initiative.
---